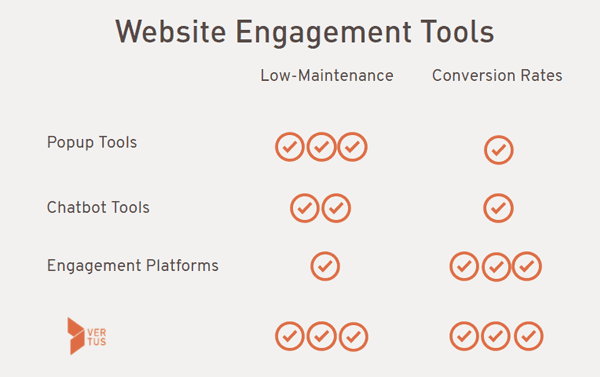 Our secret sauce for website engagement: Recommending the most relevant premium content, at the most suitable time during the natural browsing flow.
See how VERTUS can boost your website engagement with personalized content experiences.
Content engagement is declining because there is simply too much content. Finally, you need to double down on finding the content that most resonates with their audience. This is where VERTUS comes in place.
If you're getting clicks but not conversions, you're missing a piece of the puzzle. VERTUS drives content consumption with AI-powered content recommendations that encourage buyers to accelerate through the decision-making process.
Creating the right content for website visitors is not enough. VERTUS helps you to make this content appear before them at exactly the moment they are looking for it.
Content analytics is one of the most important aspects of content marketing. VERTUS helps you figure out what content really converts and find new content topic ideas for lead generation.
VERTUS promotes any type of lead magnet and turns your website into a real lead generation machine
A content upgrade is bonus piece of information that elaborates on or complements a piece of content the reader is already interested in.
Promote eBooks and Checklists
Promote Webinars, Seminars & Events
Promote Coupons & Loyalty Cards
Register today for a free trial.